Ferrofish A32 pro Dante 32 x 32 AD/DA Converter
Regular price
£2,541.67
/
---
32 In / 32 Out AD/DA
Dante, MADI & ADAT Converter
 The Ferrofish A32pro Dante is currently available to pre-order.

 Shipping April 2022.
Analogue I/O
32 x Balanced analogue inputs
32 x Balanced analogue outputs
2 x Balanced Main TRS Outputs
2 x Phones Outputs
Digital I/O
1 x MADI optical I/O via SFP
1 x MADI Coaxial I/O via SFP
4 x ADAT TOSLINK inputs
4 x ADAT TOSLINK outputs
2 x Dante RJ-45 Ethernet connector (64 Dante Inputs / 64 Dante Outputs)
1 x Wordclock (BNC)
1 x MIDI I/O (3.5mm mini-jack)
Additional Features
4 x Touch-Screen TFT Screens for control over all levels & settings
All 64 channels visible simultaneously (peak & level display)
Silent, fan-less design
Extensive routing/mixing possibilities
Redundant Power Supplies*
USB connection for firmware updates and remote control
Remote Control via MIDI or USB (via RemoteFish software)
GPIO
2 x QSFP Slots for future expansion
Overview - The Future of Audio Conversion
The Ferrofish A32pro and A32pro Dante are the latest in a long line of professional AD/DA converters from German pro audio manufacturer Ferrofish.

Continuing the company's successful tradition of designing high-quality, cost-effective AD/DA converters for studio, live audio and broadcast production, the A32pro and A32pro Dante are the
natural successors to the popular Ferrofish A32 and A32 Dante models, packing more functionality than ever before into a single 1U frame.

In addition to the completely revised front-panel design, the four TFT screens and highly-intuitive operation of previous models are now supplemented by a touch-screen interface and large encoder knob. Changes to device settings can be made directly from the front of the unit simply by tapping the functions - it couldn't be easier!
Packed with analogue and digital audio features, the Ferrofish A32 Pro is an incredibly flexible and space-saving tool, offering up to 32 analogue inputs and 32 analogue outputs in only 1U of rack-space! Two independent headphone outputs (and an additional TRS stereo output) offer further flexibility for monitoring and routing in recording studio, live audio and broadcast applications.
Redundant MADI and power supplies (optional) provide important fail-safe options, especially useful in live operations. Powerful on-board routing also allows for format conversion between the different digital interfaces, and the new DSP-STICK slots provide an upgrade-path for planned future DSP-based expansions.
32 x 32 A-D/D-A Conversion with ESS
The Ferrofish A32 Pro series feature the latest generation of converter chips from ESS, for high quality sound recording and audio playback. In addition a stereo TRS Main Out delivers a simple and fast way to connect stereo monitors or recorders.
Dual Headphone Outputs
With the Ferrofish A32 Pro, Ferrofish say they've 'broken the Highlander rule of "there can be only one"', doubling the number of headphone outputs. Both headphone outputs are driven by TPA6120A from Texas Instruments, with adjustable gain stages for headphones and IEMs of various impedances. The Highlander would be envious - if he owns headphones.
Dante Network I/O (redundant)
Two RJ-45 ports connect to any Dante audio network. Simply connect a LAN Ethernet cable (CAT5/CAT6) to the primary port. The secondary port takes automatically over in case of a network error (Dante Port Redundancy).
Highest Feature Density
32 x 32 analogue I/O channels, fully balanced on DSub25 (Tascam pinout)
32 x 32 ADAT I/O channels on TOSLINK jacks with 96kHz support
64 x 64 MADI I/O channels on LC SFP module, user exchangeable, coax SFP module optional available
64 x 64 DANTE I/O channels on dual Ethernet ports with redundant functionality*
Wordclock I/O on BNC connectors with proprietary jitter reduction circuit
MIDI I/O on 3.5mm TRS connectors (MIDI 2.0 pinout)
GPIO port for remote preset switching and alert monitoring on DSub15
Dual stereo headphone 1/4" TRS outputs with high-end amp modules and dedicated DAC
Latest generation ESS A/D and D/A converter chips with 192kHz and 24Bit data path
Highly intuitive four screens multitouch user interface
Illuminated touch sensitive high-res encoder
Flexible routing matrix
MIDI-over-MADI
Dedicated dual headphone monitoring matrix
Dual power input redundant system with monitoring and alert system
SHARC DSP for internal signal processing
Dual expansion slots for optional DSP sticks
Simple MIDI CC mode for remote control by simple MIDI commands
Remote controllable via RemoteFish app for Mac & Windows (USB, MIDI, MIDI over MADI and Dante*), or via GPIO
*A32pro Dante only
Intuitive TFT Touchscreen User Interface
Combining the highly intuitive user interface of the A32 Pro with a large, multi-touch overlay covering all four high-res TFT screens, control of the A32 Pro couldn't be easier.
GPIO Port - Remote Control & Monitoring
The newly added GPIO port allows remote control of important parameters of the A32 Pro via simple electronic signals, whilst simultaneously providing monitoring of device statuses at any time.
Modular Expansion Ports
For the highest possible degree of flexibility, the MADI I/Os have been designed as a dual SFP slot bay for a maximum of 256 I/O channels. The SFP slots can accommodate both optical and coaxial SFP modules.
A dual QSFP slot bay is also available for future expansion modules.
Remote Control via USB, MIDI, MADI and GPIO
The Ferrofish A32 Pro provides a variety of remote control options, ensuring maximum flexibility for a wide range of professional audio applications.
Software Control with RemoteFish (Mac/PC)
Full remote control of the Ferrofish A32 Pro Dante is available via USB, MIDI, MIDI over MADI, or Audinate's Dante protocol via the RemoteFish software application, available as a free download for both Mac and PC.
RemoteFish provides an extended user interface for control over all input and output gains, channel routing, settings adjustments, and the saving and loading of presets.
RemoteFish Software - Overview Video
See more videos at Synthax TV
Highest Feature Density
• Highly flexible dual monitoring matrix including balanced operation
• Sophisticated routing matrix
• Additional balanced TRS Main Outputs for fast and easy connection
• Redundant power and MADI switchting modes including monitoring
• Permanent monitoring and alert modes, even over GP outputs
• Remote controllable by USB, MIDI or Ethernet by Remotefish App.
• Remote operation by MIDI CC and Note On/Off commands.
• Quiet fanless design in 1RU enclosure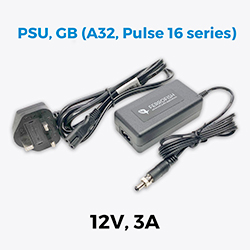 Optional: Additional UK Power Supply
The Ferrofish A32pro Dante ships with a single UK power supply.
If you'd like to add a second power supply (for redundancy), additional PSU's are available here.
+ View more