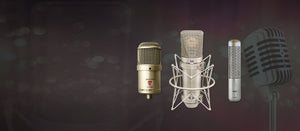 The ears of a recording studio.
500 Series Specialists. Studio Design and Specification. UK Distributor for Grace Design, DW Fearn, TK Audio, Samar Audio, Purple Audio, Crowther Audio, Summit Audio and Stedman
EUROPEAN BUYERS - WE CAN ACCEPT €€€€ Please email for your Euro price - You will be offered the best rate available.
SILVERSHARKSTUDIOS
LAUTEN AUDIO EDEN LT-386
This fabulous top end microphone is available for demo in a fully equipped studio right next to Tooting Bec station.

Contact ASAP Europe to arrange your demo

020 8682 6618 or 07768 490 922
Shop Now
Stedman PureConnect Kits
Stedman
Based in the USA, Stedman design and manufacture professional studio accessories.
Shop Now